Our Wagon Tale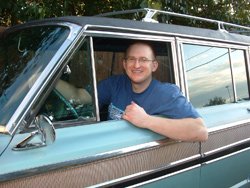 I remember the day I drove off the dealer's lot with my first Jeep Grand Wagoneer like it was yesterday.
It was a crisp, sunny spring day in north central Kansas and I had the world in the palm of my hand as I tooled down the highway in my 1988 Dover Gray Metallic Grand Wagoneer with a cordovan interior (I'm still partial to this color combination even today). With the unbelievable styling, incredible wide-open view and smooth, powerful ride, I was hooked! As, it turned out, hooked for life!

Whether it is nostalgia, performance, the classic style or even just the desire to drive something unique in a world of look-alike cookie-cutter vehicles, the Grand Wagoneer has an insatiable, magnetic pull for those who catch "Wagon Fever." From daily drivers to weekend cabin cars, Grand Wagoneers provide their owners with a unique, fun driving experience unlike any other.

After many faithful miles and years of service from my original 1988 Grand Wagoneer, I am now fortunate to drive a different Wagoneer on any given day of the week! With a running inventory ranging from 10 to 15 or more Grand Wagoneers, I personally test drive each and every vehicle that enters or leaves our dealership. Some call it a labor of love ... I call it the joy of beginning everyday with the comfortable feel of a stately old friend. One that is sure to garner nods, waves and comments throughout the day. It's a great pleasure for me to be in the business of buying, selling and preserving a great piece of Americana automotive history. It is a labor of love, a passion and something we take very seriously at Wagoneer World.


Understanding Heritage
If they could talk, no doubt each Grand Wagoneer ever made would have a story, a history, a journey of some kind to share. As part of our due diligence in determining which Jeeps to make part of the Wagoneer World collection for our clients to choose from, we first work to uncover the unique story and heritage of each Jeep. Through this detailed process and the interaction with thousands of Wagoneer enthusiasts over the years, we developed our tag line ... "Because every enthusiast has a Wagon Tale." If you are a long-time owner, be sure you share some of your Wagon Tales with us (click here see our Wagon Tales section). If you are ready to start your own new Wagon Tale contact us, we would love to help you find the right one.

Preserving an Icon
At Wagoneer World, we are so enthusiastic about Jeep Grand Wagoneers that it became our passion to preserve, share and pass along the experience to others through a Jeep Grand Wagoneer dealership dedicated to bringing high-quality, low-mileage, reconditioned Wagoneers to the marketplace. We've built our business on the principles of putting customers first with honesty, integrity, and true customer service. We begin with only the best Wagons and follow a stringent and proven in-house reconditioning process to ensure consistent and excellent vehicles for our clients to choose from, worry-free, while shopping our inventory.

Enjoy the site and please give us your feedback - if you have any questions about any of our Jeeps give us a call at 972-965-6130 or drop us an e-mail. Thanks for your interest and for spending time browsing our site. We appreciate all of our loyal customers across the U.S. and globe and look forward to meeting future customers who answer the call of the unmistakably unique and beautiful Jeep Grand Wagoneer.

Sincerely,
Wagonman