Parts for Sale
Full Size Jeep Parts
We carry many salvage and New Old Stock (NOS) parts for our own restorations. Although we are focused on reconditioning our own inventory of Jeeps and therefore not set-up as a parts retailer, we are happy to help out if you looking for a specific part and we have it. If not, we'll refer you to other resources. Some known available parts for sale are listed below. Just e-mail or call with your request for these or other parts and we'll see if we can help.
Ordering Instructions
We are not set-up as a parts retailer, however if we can help out fellow enthusiasts we are happy to do so. To order a part from us, follow these simple instructions:
Call (972-965-6130) or email (wagonman@prodigy.net) to confirm the part you need is available.
Send a money order or check (shipping holds until after checks have cleared) to our mailing address (Wagoneer World; 1233 Glen Cove Dr.; Richardson, TX 75080)
Or, send us an e-mail request to pay via Paypal and we'll send you a Paypal Invoice (allows you to pay by credit card through Paypal). A small Paypal service fee applies on Paypal orders.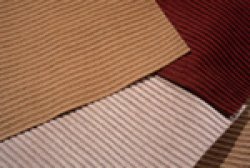 Original seat cloth material inserts
Give your interior that "new" look with ORIGINAL seat cloth material inserts. We have a limited supply of original cloth material seat inserts - perfect to replace the aged, worn or stained cloth portion of your seats (this is the factory original, cumberland cord cloth material).
A set includes cloth inserts pre-cut for the cushion and lean back portions of one seat (two seats required for the complete rear seat). Limited supply -- call or email for availability. Late model -- 87-91 Cordovan/Burgundy; 87-88 Tan; 86 Tan; 89-91 Sand -- original Sand is GONE, but we have an original material Alternate Sand. Call/email for early model seat material options (recommended to send a picture of your original seats).
Late Model (1986 to 1991): $105 per seat set (one seat) or $375 for a set of 4 (covers front and rear seats for one vehicle).
Early Model (1963-1985): $115 per seat set (one seat) or $395 for a set of 4 (covers front and rear seats for one vehicle).
Requires professional installation.VERY LIMITED SUPPLY AVAILABLE.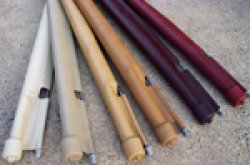 Rear Cargo Covers
This is the hard-to-find tonneau cover usually missing from most Grand Wagoneers. We have a variety of colors in limited numbers purchased from individuals, salvage Jeeps and parts suppliers. A very functional/useful part to provide security by covering items in the cargo area of your Jeep. Great item to complete your Grand Wagoneer interior. $345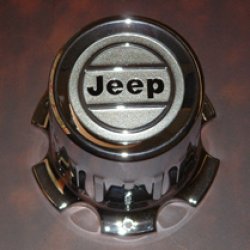 Chrome center wheel caps (subject to availability):
LIMITED: NOS Silver, Gold or Red/White/Blue center -- $165 each
Used Silver, Gold, or Red & Blue center (GRADE A CONDITION -- $120 each
Used Silver, Gold, or Red & Blue center (GRADE B CONDITION -- $70 each
Used Silver, Gold, or Red & Blue center (FAIR CONDITION) -- $30 each